Welcome to Les Arcs !
Passionately fond of snow and sliding we offer dog sled rides.
Comfortably ensconced in our handmade sled come and experience the surprising world of sled dogs.
Our incredible dog colleagues will be glad to show you their admirable talents and to share a moment of exchange and complicity with you.
It is possible to book your dog sled rides from Monday to Sunday.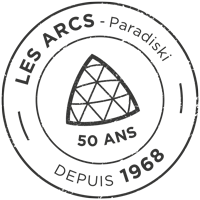 In comparison with the other means of transport, sled dog offers matchless advantages. It needs highly diversified and renewable natural resources. It shoots off even by Siberian temperatures. It can run on almost every ground including stretches of water. It has its own healing and reproductive system. To top it all, it has a warning device and as a free gift, it offers you night concerts. Its most important quality will ever be, what any manufacturers will never be able to integrate to his machines, its presence, a friendly one !

André Pilon - Coureur des bois.